Over what used to be know as "Plaza de las Carnicerías" in Quito's old quarters, this square also doubled as a bull fighting ring. The Teatro Nacional Sucre, one of south america's oldest opera house and a jewel of renaissance classicism, hosts Quito`s most important and avant garde restaurant.
This iconic restaurant reveals to us one of its stars, the "Tagliatelle al seco de chivo".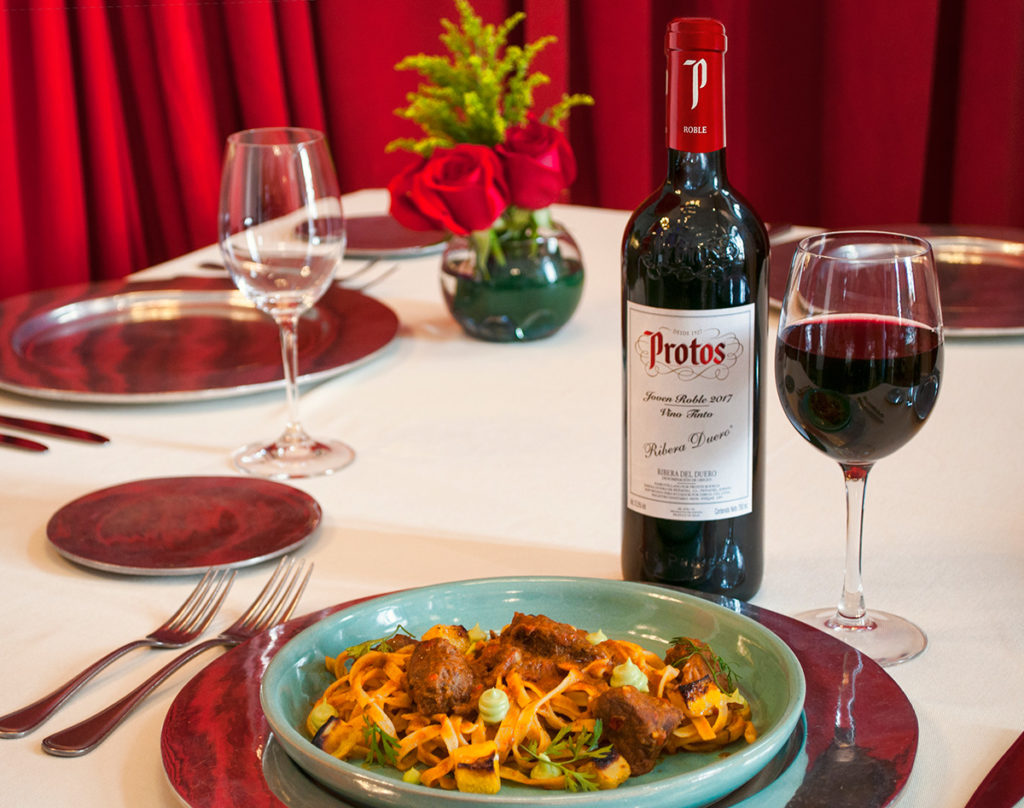 500 g. lamb ossobuco in medium sized pieces
80 g. Annatto oil
50 g. Minced garlic
130 g. Finely chopped red onion
70 g. Finely chopped long onion
70 g Minced red pepper
50g. Minced Green pepper
150 g. Chopped (cubes) ripe tomato
100 g. Naranjilla(Solanum quitoense) liquified & sifted
40 g. Fresh cilantro
180 g Tagliatelle pasta
300 ml. Blond beer
1 u Maqueño plantain in cubes
½ avocado
Olive oil
Cinnamon
Clove
Black pepper
Cumin
Salt
Place in a pot the annatto oil, cinnamon, clove, black pepper, cumin, salt, onions and garlic for 2 minutes, then add the peppers, tomato & naranjilla for about 8 minutes.
Add the ossobuco and keep cooking for 5 minutes. Pour the beer & naranjilla as well as the cilantro and reduce the heat to slowly cook everything together until the goat is soft.
Roast the plantain in a grill and then cut it in pieces.
-Mash the avocado until it becomes completely creamy.
– Cook the pasta until al dente (about 4 minutes) in boiling water & salt. Drain the water and putt he pasta into the pot and mix all the ingredients together. Season.
Serve in a bowl with the plantain pieces, the avocado mousse, cilantro leaves and pour a bit of olive oil on top.

¿Which Protos to pair it with?
This pasta, because of its rich sauce, is best serve with a young fruity wine, such as our Protos Roble. Its fruit forward taste will enhance its annatto spice.
Teatro Nacional Sucre,
Plaza del Teatro, 2da. Planta, Quito. Ecuador. 170401