Maitane was born in 2017, inspired by the hopes & dreams of Spanish citizens.  Every detail of Maitane, has been carefully planned for you to feel loved. This elegant yet cozy family restaurant offers a wide variety of Spanish and Mediterranean with an amazing Ecuadorian twist. These tastes, colors, qualities and presentations helps us forge an authentic art piece in every dish we give you.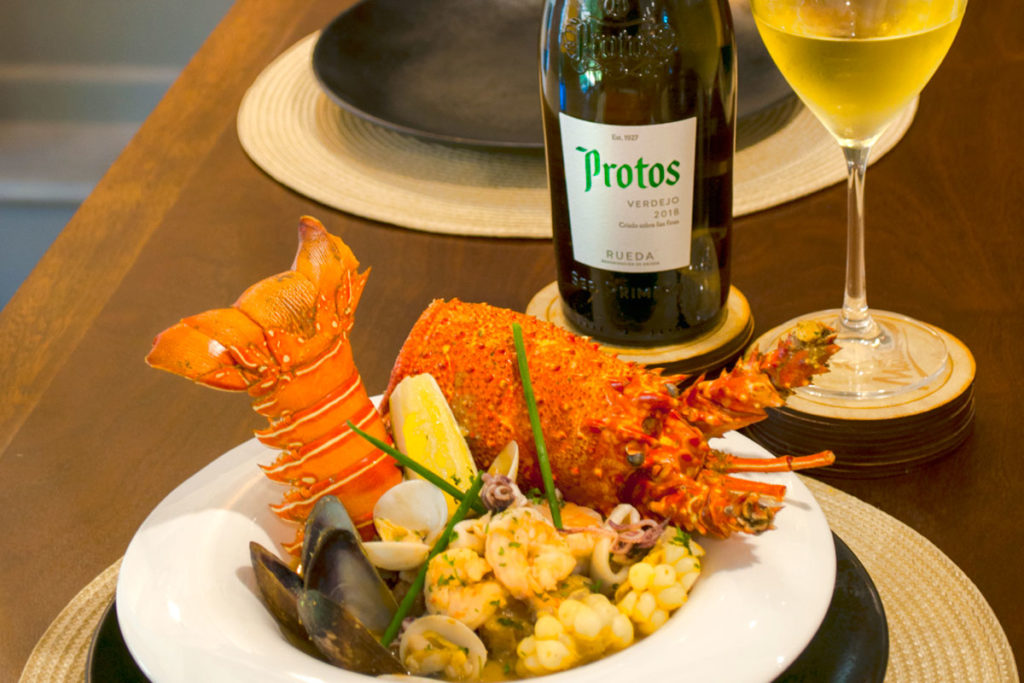 – 250 gr fish bones
– 1 lt. water
– 250 ml milk
– 180 gr peanut
– 40 ml annatto oil
– 400 gr red onion
– 5 gr de ground cumin
– 10 gr garlic
– 400 gr marlin
– 1 small lobster
– 100 gr mussels
– 100 gr calamari rings
– 100 gr clam
– 200 gr shrimp
– 50 gr butter
– 1 red or green bell pepper
– 30 gr dry oregano
– 20 gr ground annatto
– 60 gr  peanut butter
– 250 gr tapioca/cassava
– 2 mature plantains
– 2 tender choclos (giant corn on the cobb)
– 20 gr cilantro leaves
– Salt & pepper.
Place in a casserole: salt, fish bones, half an onion, 6 garlic cloves and let it boil for 45 minutes until you get a concentrated broth.
In a pan, stir-fry the annatto oil, the ground cumin, salt, onion & garlic until the onion is transparent. Set aside to blend with the peanut butter sauce, milk and fish broth.
Sift the sauce (2) to get the base of the viche.
Heat an extra 2 tablespoons of oil in a big pot and add chopped onion, garlic, peppers, annatto, cumin, oregano & salt, and simmer for about 10 minutes. Then add the fish broth and the peanuts and bring to a boil.
Add slices of the choclo (giant corn on the b¡cobb), pieces of cassava onto the pot and let it boil in low heat for about 35/40 minutes.
Add the plantain & fish until the fish is cooked (between 8/10 minutes).
Add the rest of the seafood, except the shrimp until both the clam and mussels open up and then add the shrimp and wait until it is cooked.
Sprinkle the cilantro leaves and serve hot with lemon slices on the side.

¿Which Protos to pair it with?
There are some perfect wine pairings, and this is one of those. The acidity of the verdejo lets seafood shine through the sauce. But is lees aging also brings a roundness that blends heavenly with the milk based sauce.
Av. 12 de Octubre y Luis Cordero dentro de Swissôtel Quito. Ecuador
+593 99 536 3388