El Mesón Gallego is a culinary experience that takes your palate from Puerto Rico to the heart of Galicia. Here you will experience the best of Galician and Spanish cuisine with a Puerto Rican twist. Come and enjoy its amazing service and culinary art.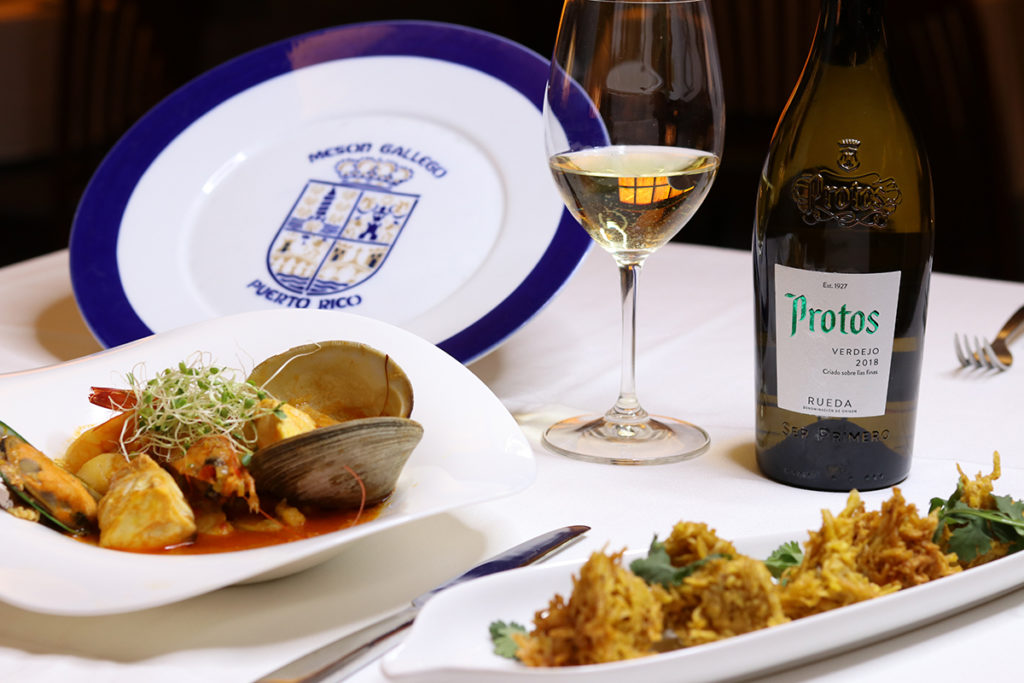 Seafood and fish
1 Langoustine
2 Shrimps
1 big scallops
4 oz monkfish (originally "cartucho" fish that is indigenous to Puerto Rico).
1/2 Lobster tail
1 Giant clam
1 Mussel
1/2 cup of red bell pepper sauce
2 tbs diced red and green bell peppers
1 tbs diced white onion
1 tsp of extra virgin olive oil
4 drops of sherry or another prefered licquor
2 tbs shredded green plantains
1/2 tsp of diced garlic
1/2 cup smoked (fumé) fish sauce
In a medium sized pan, pour the oil at approximately 225F. place the onion and bell peppers. sprinkle salt & pepper on the seafood and place them in the pan with the garlic; when they are halfway done, pour the bell pepper sauce and the somked fish sauce and the shredded green plantain.
When almost ready sprinkle the sherry/licquor and let it all come together and the sauce has body/structure.

¿What wine to pair it with?
There are some perfect wine pairings, and this is one of those. The acidity of the verdejo lets the seafood shine through the sauce. But its lees` aging also brings a roundness that blends heavenly with the milk based sauce.
Ave. Roosevelt #1247
Puerto Nuevo San Juan,
Puerto Rico 00920