Rooted in tastes, ingredients and traditions of local Ecuadorian cuisine; we have travelled the world to bring you new techniques, contemporary dishes and a spirit of progression. In this restaurant, we look towards bringing you a history of the actual Ecuador, through the language of its ingredients. For us, "born in Ecuador, with global inspiration", is not only our motto, but also represents who we are (SOMOS). We combine tastes, ingredients and traditional Ecuadorian dishes, to create a contemporary cuisine, based on our culinary adventures and techniques.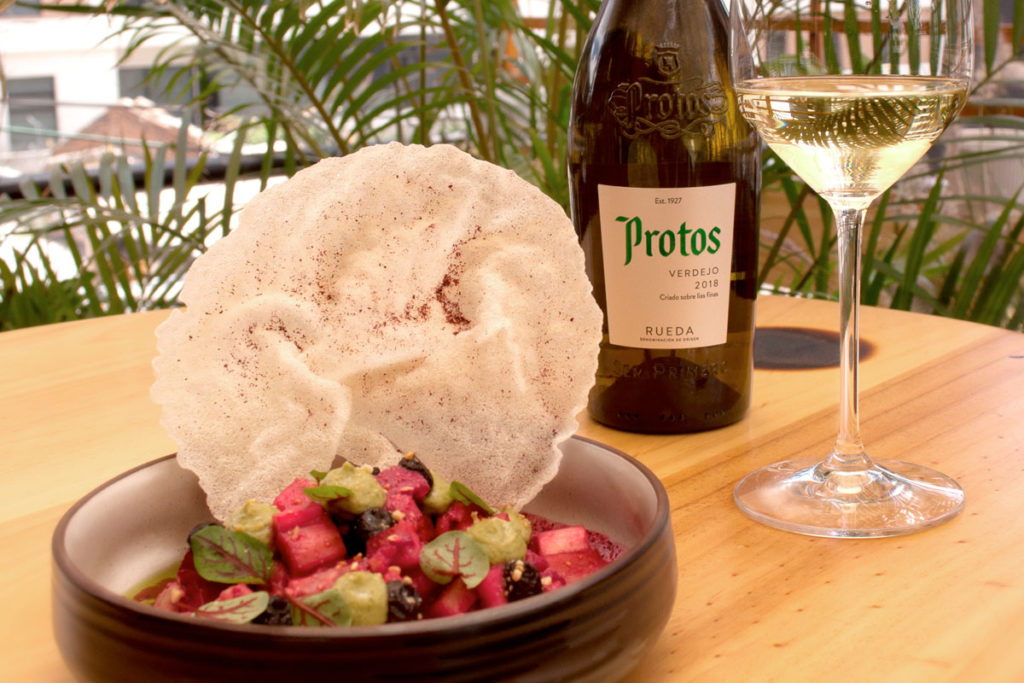 Beet juice
Lime juice
Cucumber
Avocado
Toasted peanuts
Black garlic sauce
Marinated sea bass
Toasted sesame seeds
diced beets
Cilantro oil
Cilantro leaves
Tapioca cracker
Rice chips
Mix the marinated sea bass with the diced beet, it should look like a red tuna poke bowl. Now we start playing with different tastes, textures and intensities of the cucumber & avocado.
Next, we use our black garlic sauce, that has previously fermented at home during 4 to 5 months, giving it high intesity.
Then we create a giant cracker by mixing tapioca (cassava), peanuts, sesame seeds and mint; and a few diced beet.
We finish up with a mixture of soysauce, beet juice and cilantro oil.

¿Which Protos to pair it with?
In this dish the earthy tastes of the cucumber, cilantro and beet bring forward the secondary notes of herbs that are so typical of the Verdejo grape variety. The freshness of this dish together with the freshness of our wine; will make this experience the perfect ending for these summer days.
Barrio Bellavista de Quito. N34-421 Av. Eloy Alfaro y Av. Portugal, Quito, Ecuador.