This restaurant, located in Villa del Prado neighborhood in Valladolid is a sure bet, if you like fusion food with Spanish soul. It is decorated in a mix of colonial and industrial touches and in its menu we promise everything will surprise you!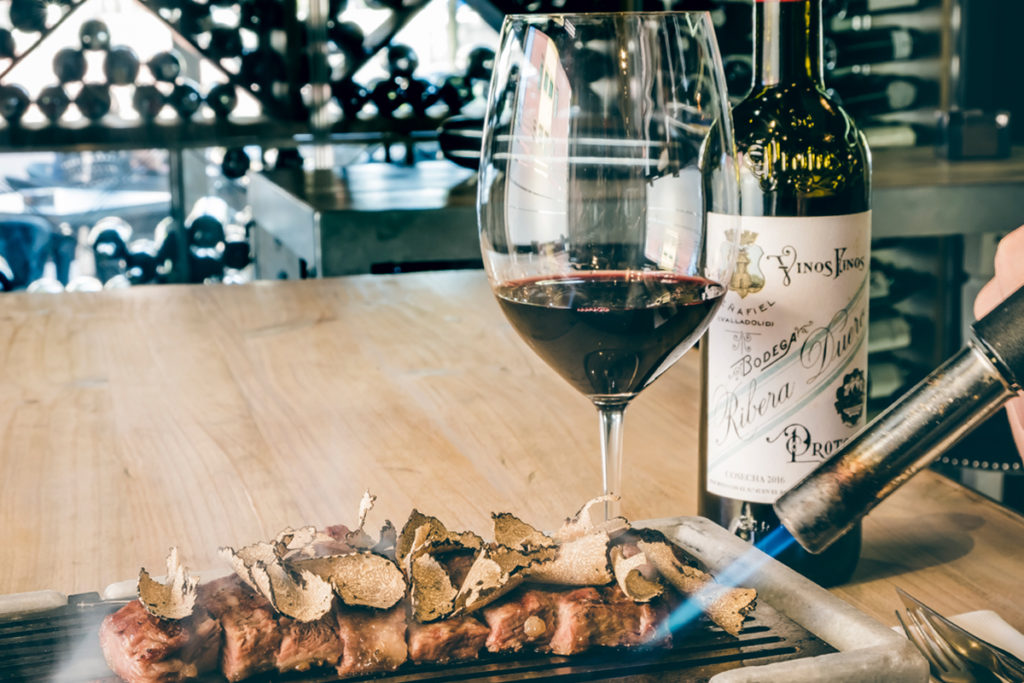 Iberian pork blade bone steak
200gr Mirin (japanese wine)
1kg unsalted butter
200gr of dried thyme
1 summer truffle
40gr sugar
To make the thyme butter: Mix in a bowl the tempered butter with dried thyme. Put a pinch of salt & peper.
Take the meat out of the fridge approximately 1 hour prior to cooking it. Seal in grill for about a minute each side with salt flakes.
Reduce the wine with the sugar and mix with the butter.
Spread the butter mix atop the meat.
Laminate the truffle on top
Place it on a karugui grill (small japanese grill) with thyme branches.
Use a kitchen torch to smoke the meat on the karugi grill.

¿Which Protos to pair ir with?
Our protos 27 is the pairfect match for this iberian port. Its 16 months in french barrels, highlight the smoked flavor of the thyme leaves and the earthy notes of the truffle. The typical taste of wild berries from the Tempranillo fruit enhance the taste of the pork, creating a perfect balance between meat and wine.