This restaurant, located in Villa del Prado neighborhood in Valladolid is a sure bet, if you like fusion food with Spanish soul. It is decorated in a mix of colonial and industrial touches and in its menu we promise everything will surprise you!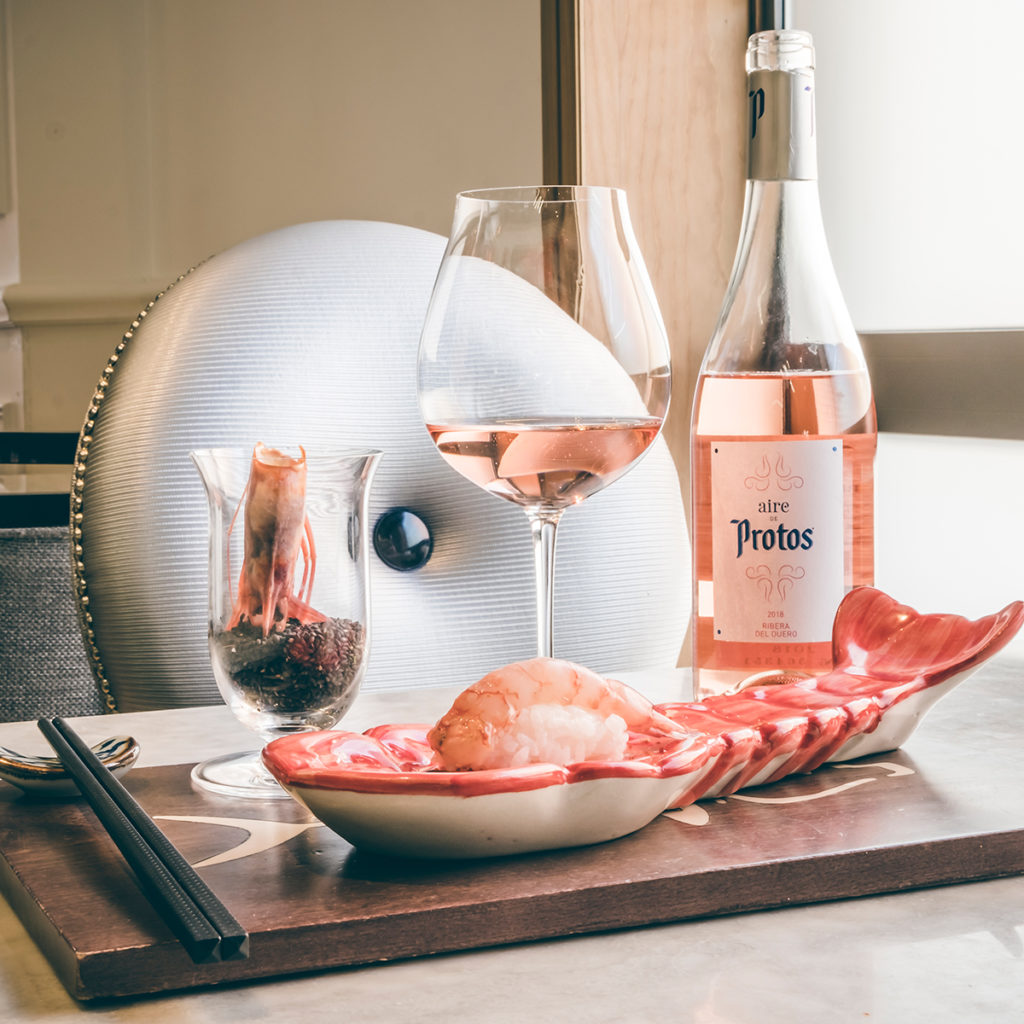 Sushi rice
Red garrutxa shrimp
Shrimp salt
Japanese mayonaise
Kimchi
SUSHI RICE
– 1 l of water
– 1 l Rice vinegar
– 200gr Sugar
– 45 gr Salt
– 1 kg Sushi rice
PREPARAED VINEGAR
– 1l Rice vinegar
– 200 gr sugar
– 45 gr salt
JAPANESE MAYONAISE
1 gr japanese mayonaise
50gr kimchi
To make the rice: Clean the rice, until all starch is gone. Pour the rice into a bowl of cold water, and cook for 20 mins. Once the rice is cooked, put it outside to rest. Once the rice is rested it should be dressed with the prepared vinegar (150ml).
For the prepared vinegar: Put the vinegar into a pot in 100ºC and slowly pour the sugar and salt without reaching boiling point.
For the Garrucha shrimp: Steam the shrimp in its shell. Peel, and dust with shrimp salt (dehydrate the shell with salt until it becomes flakes). Keep the head of the shrimp intact.
For the mayonaise: mix the japanese mayonaise with the kimchi, previously blended to become a cream.
To serve: make a ball of rice. Place the previously cleaned and sliced shrimp on top. Place the shrimp head in a shotglass and place the prepared mayonaise inside.

¿Which Protos to pair it with?
This pale rosé, made with Tempranillo grapes, but fermented in cement vats, is the perfect match  for this niguiri. The red fruits typical of the tempranillo create the perfect contrast to the rice vinegar, and the minerality brought by the cement fermentation enhances the garrucha sea taste of the shrimp.