Research & Development: Protos innovates.
Getting deeply committed to research is one of the Bodegas Protos' defining features. Furthermore, the combination of research, development and innovation (R+D+I) has helped build the leading position we have today in this field,not only in the Ribera del Duero area but also all across Spanish wine and vine-growing sector.
In keeping with the company motto of Ser primero ("Being First"), we have been continuously dedicated since 1927, the winery's founding year, to improving and discovering new technologies for wine making.
Nowadays our technical team, made up by a dozen of oenologists, engineers and chemists, combine expertise and youth. This, together with a total of 3.4 million Euros being invested since 2007 to present, is the firm basis for a continued progress towards finding new ways to fulfil always a single aim: an ongoing improvement to make the best wine.
News
08 | 10 | 2010
PROTOS MAKES THE HARVEST WITH THE MOST INNOVATIVE TECHNOLOGY
Protos will vintage these days more than 5 million kg of grapes using a process system of selection and control
BODEGAS PROTOS is developing the vintage in Ribera del Duero apellation. About
150 people join the work of harvest in Protos.
The weeks before harvest, Protos has recolected samples from over 500 plots and subjected to quality control through various processes, including infrared analyzer. At the time of the harvest, the wynnery has a historic quality of the grapes of each plot and knows for what kind type of wine each grape is more appropriate.

Once at the winery , Protos is still doing checks. More than 2 million kgs of grapes
pass through the selection table. It makes a perfect combination of manual control and application of latest technologies.

All this in the incomparable architectural framework that offers new winery designed by Sir Richard Rogers and Alonso Balaguer Arquitectos Asociados, a sanctuary of fine wine.
08 | 05 | 2012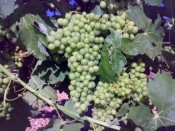 Bodegas Protos remains loyal to its claim SER PRIMERO (Being First). Lookin for excellence in the production of their Verdejo wine, their vineyards have the better clonal selections of the native grape, Verdejo.
• Read full news
07 | 02 | 2012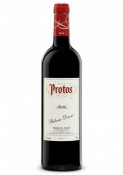 The purpose of this study is to promote viticulture in all types of users who have Internet access. This is an important advance that will allow the vast majority of people have free access to the world of wine, one of the most important economic pillars of our country. This institution, since 1996, offers vocational training in the field of viticulture promotes currently an online project that ...
• Read full news
23 | 01 | 2012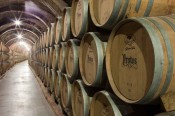 The main distinguishing feature of this study is that for the first time, it's included up to 46 different types of barrels per year, from the usual French and American oak to the more diverse from Romania and Hungary. It is well known that a great aromatic potential of grapes and taste are a necessary but not sufficient to achieve a great wine. This is also the result of a complex chain ...
• Read full news
R&D / Previous