Is the fourth Gold Medal received in 2016, Protos Roble 2014 has been awarded in Berliner Wein Trophy, Concours Mondial de Bruxelles and CWSA in China.
June 27th-
Eleven edidtion of Expovinos fair has ended, the four days exhibition was an intense tour throungh nine wine countries: Argentina, Australia, Chile, Spain, United Estates of America, France, Italy, Portugal and Uruguay.
Expovinos is the main Wine Exhibition in Colombia with more than 700 wines and 90 stands, 60 wine experts attended, including oenologists and sommeliers, and more than 66 seminars and talks.
"Expovinos Carulla-Éxito 2016 Wine Contest" was held during the exhibition, the competition following the blind tasting system selected the 39 best wines in 16 categories, awarding gold and silver medals in each category.
Gold Medal was awarded to Protos Roble´s 2014 Vintage in Spanish Red Wines category.
This award is the fourth Gold Medal received in 2016 by Protos Roble 2014 after Berliner Wein Trophy, Concours Mondial de Bruxelles and CWSA in China.
29 | 08 | 2016
BODEGAS PROTOS AWARDED WITH 4 GOLD MEDALS IN THE CHINA WINE & SPIRITS AWARDS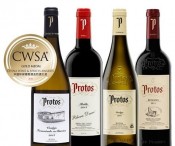 The prestigious China Wine & Spirits Awards, one of the more renowned wine contest in Asia, has awarded Gold Medals to our wines Protos Verdejo 2015, Protos Verdejo fermentado en barrica 2014, Protos Roble 2014 and Protos Reserva 2011. CWSA are the most prestigious wine and spirits contest in China, the jury is composed by 100 of the major purchasing ...
• Read full news
Press Room / Previous
15 | 07 | 2009
Protos Selección rated 90 points by Robert Parker
Source: Wine Advocate # 183 Jun 2009 Reviewer: Jay Miller Rating: 90 Maturity: Drink: 2011 - 2021 Current (Release) Cost: $75 (75) The purple-colored 2006 Seleccion has an aromatic array of toasty new oak, mineral, lavender, incense, and black cherry. On the palate it has a plush texture, the best balance of these three wines, and plenty of ripe fruit. It has several years of aging ...
• Read full news