The economical journal has awarded the R + D + i "germplasm" of Bodegas Protos as one of the most innovative ideas of 2012. It is a pioneering initiative with the variety "tempranillo" originally from Ribera del Duero, in order to preserve the authenticity of this tipical grape.
PROTOS has creates the first Germplasm Bank of Ribera del Duero in order to rescue the genetic material of the authentic "tempranillo", thus becoming the only winery in the world that has a Germplasm Bank.
PROTOS has developed an important work of selecting the oldest vines in the DO. These experts chose 60 plots of vines of all the acres that are part of the DO, selecting only 4 strains of each of these plots. The aim was to extract the tips of branches of these old vines in order to graft them in new strains of reference plantations thus preserving all the genetic material necessary.
This germplasm bank account and with 1.8 hectares of vineyards that make up a unique selection of conservation. A large genetic treasure with which we can develop new research.
The award ceremony of the Awards for the 100 best ideas of 2012 will be held tomorrow, May 21, at the prestigious Ritz Hotel in Madrid.
The film of the developtment of the initiative is available on:
http://www.youtube.com/watch?v=AFw9TBlusxI&feature=youtube_gdata_player
29 | 08 | 2016
BODEGAS PROTOS AWARDED WITH 4 GOLD MEDALS IN THE CHINA WINE & SPIRITS AWARDS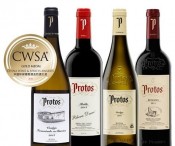 The prestigious China Wine & Spirits Awards, one of the more renowned wine contest in Asia, has awarded Gold Medals to our wines Protos Verdejo 2015, Protos Verdejo fermentado en barrica 2014, Protos Roble 2014 and Protos Reserva 2011. CWSA are the most prestigious wine and spirits contest in China, the jury is composed by 100 of the major purchasing ...
• Read full news
Press Room / Previous
15 | 07 | 2009
Protos Selección rated 90 points by Robert Parker
Source: Wine Advocate # 183 Jun 2009 Reviewer: Jay Miller Rating: 90 Maturity: Drink: 2011 - 2021 Current (Release) Cost: $75 (75) The purple-colored 2006 Seleccion has an aromatic array of toasty new oak, mineral, lavender, incense, and black cherry. On the palate it has a plush texture, the best balance of these three wines, and plenty of ripe fruit. It has several years of aging ...
• Read full news