The other most visited winerys in Ribera de Duero last year, in that order, were:
- Portia, in Gumiel de Izán (Burgos)
- Arzuaga Navarro, in Quintanilla de Onésimo(Valladolid)
- Lagar de Isilla, in La Vid (Burgos)
- Emina, in San Bernardo (Valladolid)
- Real Sitio de Ventosilla, in Villalba de Duero
- Matarromera, in Valbuena de Duero (Valladolid)
- Emilio Moro, in Pesquera de Duero (Valladolid)
- Legaris, in Curiel de Duero (Valladolid);
- Ismael Arroyo, en Sotillo de la Ribera (Burgos).
29 | 08 | 2016
BODEGAS PROTOS AWARDED WITH 4 GOLD MEDALS IN THE CHINA WINE & SPIRITS AWARDS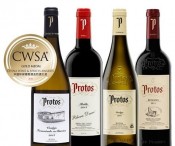 The prestigious China Wine & Spirits Awards, one of the more renowned wine contest in Asia, has awarded Gold Medals to our wines Protos Verdejo 2015, Protos Verdejo fermentado en barrica 2014, Protos Roble 2014 and Protos Reserva 2011. CWSA are the most prestigious wine and spirits contest in China, the jury is composed by 100 of the major purchasing ...
• Read full news
Press Room / Previous
15 | 07 | 2009
Protos Selección rated 90 points by Robert Parker
Source: Wine Advocate # 183 Jun 2009 Reviewer: Jay Miller Rating: 90 Maturity: Drink: 2011 - 2021 Current (Release) Cost: $75 (75) The purple-colored 2006 Seleccion has an aromatic array of toasty new oak, mineral, lavender, incense, and black cherry. On the palate it has a plush texture, the best balance of these three wines, and plenty of ripe fruit. It has several years of aging ...
• Read full news