Bodegas Protos has ended 2012 with a strong presence in the national media. Protos and Vega Sicilia are the Ribera del Duero wineries with greater impact in the media.
These are the results from the Wine Industry Media Report 2012 elaborated by Castro Galiana Consulting. After analyzing the content of 8,000 newspapers of Spain, the consultant has determined that Protos is in the group of the 10 Spanish wineries with "very significant" presence in the press.
Further, the DO Ribera del Duero has reached 14.38% of all the information and the image projected in 2012, behind DO Rioja. According to the report "only a handful of wineries and brands struggle and achieve a significant impact" on the set of the Spanish daily press.
This impact on the national media's election coincides with the prestigious British magazine 2Monocle" which made ​​in its December issue, a brief with the "100 Spanish essential experiences", where the 54th was Bodegas Protos thanks to its facilities designed by Sir Richard Rogers with Alonso Balaguer y Arquitectos Asociados.
15 | 09 | 2016
PROTOS SELECCIÓN FINCA EL GRAJO VIEJO GOLD MEDAL IN MUNDUS VINI SUMMER TASTING 2016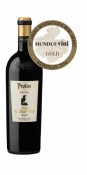 Mundus Vini, the most prestigious wine contest in Germany, has awarded in the Summer Tasting Edition a Gold Medal to our Single Estate Wine, Protos Selección Finca El Grajo Viejo 2014 The Summer tasting was a veritable tasting marathon with 4300 wines from all over the world. The 150 jury members are international wine experts coming from 38 countries. The MUNDUS VINI awards are hold ...
• Read full news
29 | 08 | 2016
BODEGAS PROTOS AWARDED WITH 4 GOLD MEDALS IN THE CHINA WINE & SPIRITS AWARDS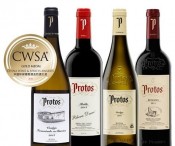 The prestigious China Wine & Spirits Awards, one of the more renowned wine contest in Asia, has awarded Gold Medals to our wines Protos Verdejo 2015, Protos Verdejo fermentado en barrica 2014, Protos Roble 2014 and Protos Reserva 2011. CWSA are the most prestigious wine and spirits contest in China, the jury is composed by 100 of the major purchasing ...
• Read full news
Press Room / Previous
15 | 07 | 2009
Protos Selección rated 90 points by Robert Parker
Source: Wine Advocate # 183 Jun 2009 Reviewer: Jay Miller Rating: 90 Maturity: Drink: 2011 - 2021 Current (Release) Cost: $75 (75) The purple-colored 2006 Seleccion has an aromatic array of toasty new oak, mineral, lavender, incense, and black cherry. On the palate it has a plush texture, the best balance of these three wines, and plenty of ripe fruit. It has several years of aging ...
• Read full news