The architect Graham Stirk has opened the new store of Bodegas Protos in Peñafiel, a new commitment to innovation in the building designed by Richard Rogers Stirk and himself at the foot of the castle of Penafiel.
The new store, located at the entrance to the winery, is much wider than before. Their goal is to be comfortable and functional at the same time. It also has more space to accommodate all the different wines available at the winery. In his speech, Stirk stressed that although the store is a small project, it reflects the love they have for this building. Furthermore, he added that "this is a cathedral of wine and should be treated as such. The concept is to create a smart, flexible furniture, and assume that this is the altar of the cathedral".
The architect has done a tour through the winery explaining to the audience the importance of architecture for the company. Edmundo Bayon, President of Bodegas Protos, has welcomed the presence of the audience and explained that "the new winery, which began as a project for the future, has such an important role, to understand the idiosyncrasies of Protos would be virtually impossible without it nowadays". He also highlighted that the previous store, "we installed under the ignorance of whether it would be sufficient to meet our customers".
For this occasion, and acknowledging the presence of Graham Stirk, Bodegas Protos has presented two of its wines that have just hit the market: Gran Reserva 2005 and Verdejo Barrel Fermented 2010.
29 | 08 | 2016
BODEGAS PROTOS AWARDED WITH 4 GOLD MEDALS IN THE CHINA WINE & SPIRITS AWARDS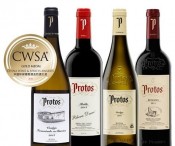 The prestigious China Wine & Spirits Awards, one of the more renowned wine contest in Asia, has awarded Gold Medals to our wines Protos Verdejo 2015, Protos Verdejo fermentado en barrica 2014, Protos Roble 2014 and Protos Reserva 2011. CWSA are the most prestigious wine and spirits contest in China, the jury is composed by 100 of the major purchasing ...
• Read full news
Press Room / Previous
15 | 07 | 2009
Protos Selección rated 90 points by Robert Parker
Source: Wine Advocate # 183 Jun 2009 Reviewer: Jay Miller Rating: 90 Maturity: Drink: 2011 - 2021 Current (Release) Cost: $75 (75) The purple-colored 2006 Seleccion has an aromatic array of toasty new oak, mineral, lavender, incense, and black cherry. On the palate it has a plush texture, the best balance of these three wines, and plenty of ripe fruit. It has several years of aging ...
• Read full news