Protos Verdejo is the only Verdejo wine which has achieved such distinction. It has also been awarded as the best prize-value wine.
The Lithuania winemaking fair has enjoyed a high wide range of wines from Bodegas Protos. All of them has been welcomed with great recognition, especially Protos Selection Finca El Viejo Rook.
Bodegas Protos is boosting its presence in those countries where wine culture begins to develop, including the Baltic countries, a special market for Protos. Verdejo 2011 won the Gold Medal at the Concours Mondial Bruxelles 2012 two weeks ago.
A jury composed by prestigious wine proffesionals from all over the world, recognized Protos Verdejo 2011 and Protos Roble 2010 with this distinction after tasting more than 7,000 samples.
15 | 09 | 2016
PROTOS SELECCIÓN FINCA EL GRAJO VIEJO GOLD MEDAL IN MUNDUS VINI SUMMER TASTING 2016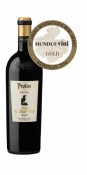 Mundus Vini, the most prestigious wine contest in Germany, has awarded in the Summer Tasting Edition a Gold Medal to our Single Estate Wine, Protos Selección Finca El Grajo Viejo 2014 The Summer tasting was a veritable tasting marathon with 4300 wines from all over the world. The 150 jury members are international wine experts coming from 38 countries. The MUNDUS VINI awards are hold ...
• Read full news
29 | 08 | 2016
BODEGAS PROTOS AWARDED WITH 4 GOLD MEDALS IN THE CHINA WINE & SPIRITS AWARDS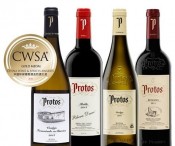 The prestigious China Wine & Spirits Awards, one of the more renowned wine contest in Asia, has awarded Gold Medals to our wines Protos Verdejo 2015, Protos Verdejo fermentado en barrica 2014, Protos Roble 2014 and Protos Reserva 2011. CWSA are the most prestigious wine and spirits contest in China, the jury is composed by 100 of the major purchasing ...
• Read full news
Press Room / Previous
15 | 07 | 2009
Protos Selección rated 90 points by Robert Parker
Source: Wine Advocate # 183 Jun 2009 Reviewer: Jay Miller Rating: 90 Maturity: Drink: 2011 - 2021 Current (Release) Cost: $75 (75) The purple-colored 2006 Seleccion has an aromatic array of toasty new oak, mineral, lavender, incense, and black cherry. On the palate it has a plush texture, the best balance of these three wines, and plenty of ripe fruit. It has several years of aging ...
• Read full news