For second year, Bodegas Protos breaks own record sales volume and turnover, with increases of almost one million bottles and five million euros since 2009.
A consistent strategy and over time based on the search for the highest quality along with an optimal plan for the distribution of wines at fair prices, has made Bodegas Protos to be in a privileged position in the market in these difficult economic times.
This figures translates into a great customer loyalty and a sales incresement in all market channels. Attending to th different channels, Bodegas Protos has experienced stronger growth in export market reaching 19% and surpassing for the first time a million bottles sold in 90 countries.
The off trade channel is the second share with 10% growth in sales, taking part of them the direct sales to private customers through its own stores, department of wine tourism, wine clubs, etc.. Although the On trade channel is suffering the crisis more than other markets, in the last two years Protos grew nearly 9% and accounts for 51% of Group sales, so this channel will receive more effort and support from the Cellar.
As for wine categories, Protos Verdejo has experienced the the highest growth from their winnery in the DO Rueda, with a 55% accumulated in the last 2 years. In the same period, it's prestigious red wines of Ribera de Duero continue with steady growth with a 18%. These figures improve the income of Protos in 2011 vs. 2010 substantially, with upgrowths from 12.7% in EBITDA and 22.5% on profit before tax.
29 | 08 | 2016
BODEGAS PROTOS AWARDED WITH 4 GOLD MEDALS IN THE CHINA WINE & SPIRITS AWARDS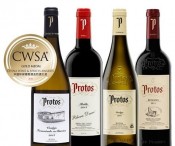 The prestigious China Wine & Spirits Awards, one of the more renowned wine contest in Asia, has awarded Gold Medals to our wines Protos Verdejo 2015, Protos Verdejo fermentado en barrica 2014, Protos Roble 2014 and Protos Reserva 2011. CWSA are the most prestigious wine and spirits contest in China, the jury is composed by 100 of the major purchasing ...
• Read full news
Press Room / Previous
15 | 07 | 2009
Protos Selección rated 90 points by Robert Parker
Source: Wine Advocate # 183 Jun 2009 Reviewer: Jay Miller Rating: 90 Maturity: Drink: 2011 - 2021 Current (Release) Cost: $75 (75) The purple-colored 2006 Seleccion has an aromatic array of toasty new oak, mineral, lavender, incense, and black cherry. On the palate it has a plush texture, the best balance of these three wines, and plenty of ripe fruit. It has several years of aging ...
• Read full news