The Verdejo 2011 is the new vintage of white wine from Bodegas Protos, made with the latest technology in the winery in Rueda DO in La Seca.
This wine is made 100% ​​from the best Verdejo selected grapes, coming from vines more than 10 years grown without irrigation. Last September has been much warmer than average and absolute absence of rainfall, which has contributed to further advance the harvest, veraison and ripening of the grape Verdejo.
With a delicate straw yellow color with greenish hues, PROTOS Verdejo 2011 is characterized as a young wine, clean and bright. It's aroma includes tropical and citrus notes with hints of fennel and anise. In the mouth it is fresh, round, full-bodied and well structured. It has a slightly bitter aftertaste, characteristic of the Verdejo variety, which causes a long finish.
A white unsurpassed, perfect for pairing with pasta, rice, vegetables, soft cheese and all kinds of seafood. Operating temperature is 6-7 ° C. Protos Verdejo has received numerous awards during 2011. It has been named "best Verdejo wine" by Gourmet Guide,it received 91 points in the prestigious Penin Guide and received the Diamond Award in last year's contest Wine and Women too.
Among others, these awards make Protos Verdejo a benchmark for quality and a favourite for consumers, good reasons to argue the 15% growth in production over the previous vintage, offering top quality 800,000 bottles.
29 | 08 | 2016
BODEGAS PROTOS AWARDED WITH 4 GOLD MEDALS IN THE CHINA WINE & SPIRITS AWARDS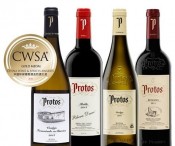 The prestigious China Wine & Spirits Awards, one of the more renowned wine contest in Asia, has awarded Gold Medals to our wines Protos Verdejo 2015, Protos Verdejo fermentado en barrica 2014, Protos Roble 2014 and Protos Reserva 2011. CWSA are the most prestigious wine and spirits contest in China, the jury is composed by 100 of the major purchasing ...
• Read full news
Press Room / Previous
15 | 07 | 2009
Protos Selección rated 90 points by Robert Parker
Source: Wine Advocate # 183 Jun 2009 Reviewer: Jay Miller Rating: 90 Maturity: Drink: 2011 - 2021 Current (Release) Cost: $75 (75) The purple-colored 2006 Seleccion has an aromatic array of toasty new oak, mineral, lavender, incense, and black cherry. On the palate it has a plush texture, the best balance of these three wines, and plenty of ripe fruit. It has several years of aging ...
• Read full news