Bodegas Protos conquers the hearts of his 2.0 followers. The winery got a total success on Friday April 20 in the "Tasting Pairing" which prepared exclusively for his followers on Facebook and Twitter in Pons Foundation in Madrid.
The goal: to reward the loyalty of his followers in Social Media. Tools: delight their palates with three of the best wines paired with delicious tapas whose production was conducted by the renowned chef Daniel Sancho Mendez, winner of the International Contest of Tapas and Pinchos de Valladolid 2011.
The first wine of the day was the new Protos Verdejo 2011, which has received numerous awards during 2011. It has been named "best wine" by Gourmet Guide; It has received 91 points in the prestigious Penin Guide and it has received the Diamond Award in last year's contest Wine and Women.
Protos Crianza 2009, which will be released in a few months, was paired with "Good news from our land" tapa, a special surprise for all attendees. Crianza 2009 is an elegant wine on the nose, with intense aromas of ripe black fruit and complex flavors from the wood, spice, licorice and toasted. It is an intense and complex wine that already has a gold medal at the Berlin Wine Trophy 2012.
PROTOS Selection Finca el grajo Viejo was paired with a delicious sauce of white chocolate mousse, blackberry, earth wine reduction and cocoa. It has a cherry red color, aromatic with a good range and a highly complex nose of ripe fruit and spicy, this wine is tasty, full-bodied and very expressive.
29 | 08 | 2016
BODEGAS PROTOS AWARDED WITH 4 GOLD MEDALS IN THE CHINA WINE & SPIRITS AWARDS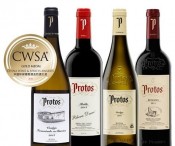 The prestigious China Wine & Spirits Awards, one of the more renowned wine contest in Asia, has awarded Gold Medals to our wines Protos Verdejo 2015, Protos Verdejo fermentado en barrica 2014, Protos Roble 2014 and Protos Reserva 2011. CWSA are the most prestigious wine and spirits contest in China, the jury is composed by 100 of the major purchasing ...
• Read full news
Press Room / Previous
15 | 07 | 2009
Protos Selección rated 90 points by Robert Parker
Source: Wine Advocate # 183 Jun 2009 Reviewer: Jay Miller Rating: 90 Maturity: Drink: 2011 - 2021 Current (Release) Cost: $75 (75) The purple-colored 2006 Seleccion has an aromatic array of toasty new oak, mineral, lavender, incense, and black cherry. On the palate it has a plush texture, the best balance of these three wines, and plenty of ripe fruit. It has several years of aging ...
• Read full news