The wine lovers are in luck. Bodegas Protos winemakers have adopted the new vintages that go beyond the most optimistic forecasts in quality and taste.
These wines will be formally presented in the eighteenth edition of Alimentaria Barcelona,from 26th to 29th of March. Red cherry and grape 100% selected, PROTOS brings to our tables awaited the Roble "Ribera del Duero" 2010. After proper rest, as befits its proper development, and all the care they deserve this category, the end result is an exceptional Oak characterized by its attractive color, lively and bright. A wine of excellent quality, very expressive and good intensity.
A great bottle to add to any meal.
Talking about excellence, we must talk about PROTOS ROSE and PROTOS VERDEJO 2011, two great wines suitable for any occasion. Protos Verdejo has been chosen as the best wine of the prestigious Verdejo gourmet guide 2012. These wines are characterized by their color attractive, lively and very bright. They are very fresh wine with a long persistence. Protos Rose can be in any table, perfect to accompany cereal, pasta and vegetables and a target for all kinds of seafood.
Wines of great freshness, they will not leave anyone indifferent. Roble 2010, Verdejo 2011 and Rose 2011, a wine for every occasion with a common characteristic: their high quality.
We wait you in Intervin Hall, Stand D130
29 | 08 | 2016
BODEGAS PROTOS AWARDED WITH 4 GOLD MEDALS IN THE CHINA WINE & SPIRITS AWARDS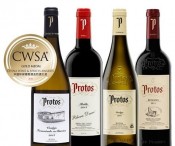 The prestigious China Wine & Spirits Awards, one of the more renowned wine contest in Asia, has awarded Gold Medals to our wines Protos Verdejo 2015, Protos Verdejo fermentado en barrica 2014, Protos Roble 2014 and Protos Reserva 2011. CWSA are the most prestigious wine and spirits contest in China, the jury is composed by 100 of the major purchasing ...
• Read full news
Press Room / Previous
15 | 07 | 2009
Protos Selección rated 90 points by Robert Parker
Source: Wine Advocate # 183 Jun 2009 Reviewer: Jay Miller Rating: 90 Maturity: Drink: 2011 - 2021 Current (Release) Cost: $75 (75) The purple-colored 2006 Seleccion has an aromatic array of toasty new oak, mineral, lavender, incense, and black cherry. On the palate it has a plush texture, the best balance of these three wines, and plenty of ripe fruit. It has several years of aging ...
• Read full news