The perfect day for the whole family can enjoy with the carnival magic in a wine. Enjoy carnival fun at Bodegas Protos.
An unforgettable day you can enjoy with the whole family including wine barrels and costume workshops. Some tours designed for the enjoyment of small and large, in which adults can take a guided tour through the facilities of the winery to see first hand the PROTOS best kept secrets since 1927.
During the visit, will experience a journey through time where tradition and new technologies come together to produce the finest wines. Meanwhile, the little ones can enjoy a holiday in the costume shop of the winery. This new initiative will allow parents to fully enjoy the visit while the kids let their imaginations to a world of masquerades and bright colors prevail where imagination and fun.
This workshop aims to Bodegas Protos entertain children while they discover their ability to create your own costume. In short, an opportunity for fathers and mothers wine lovers enjoy an unforgettable day among grapes, barrels and tasting fine wines, while the smaller house to develop their imagination while enjoying a fun day you will learn the best tricks to become the kings of the Carnival.
15 | 09 | 2016
PROTOS SELECCIÓN FINCA EL GRAJO VIEJO GOLD MEDAL IN MUNDUS VINI SUMMER TASTING 2016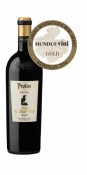 Mundus Vini, the most prestigious wine contest in Germany, has awarded in the Summer Tasting Edition a Gold Medal to our Single Estate Wine, Protos Selección Finca El Grajo Viejo 2014 The Summer tasting was a veritable tasting marathon with 4300 wines from all over the world. The 150 jury members are international wine experts coming from 38 countries. The MUNDUS VINI awards are hold ...
• Read full news
29 | 08 | 2016
BODEGAS PROTOS AWARDED WITH 4 GOLD MEDALS IN THE CHINA WINE & SPIRITS AWARDS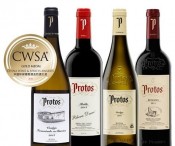 The prestigious China Wine & Spirits Awards, one of the more renowned wine contest in Asia, has awarded Gold Medals to our wines Protos Verdejo 2015, Protos Verdejo fermentado en barrica 2014, Protos Roble 2014 and Protos Reserva 2011. CWSA are the most prestigious wine and spirits contest in China, the jury is composed by 100 of the major purchasing ...
• Read full news
Press Room / Previous
15 | 07 | 2009
Protos Selección rated 90 points by Robert Parker
Source: Wine Advocate # 183 Jun 2009 Reviewer: Jay Miller Rating: 90 Maturity: Drink: 2011 - 2021 Current (Release) Cost: $75 (75) The purple-colored 2006 Seleccion has an aromatic array of toasty new oak, mineral, lavender, incense, and black cherry. On the palate it has a plush texture, the best balance of these three wines, and plenty of ripe fruit. It has several years of aging ...
• Read full news