The expectations are highest since the 2008 vintage received 93 points in the Penin Guide. This is a limited production of 6.644 bottles with an exclusive 6-month aging in new barrels of French oak.
This limited edition is made from 100% Verdejo grape. For the elaboration, the grape harvest was carried out manually in 20 kg boxes from old vines and has made ​​a selection of table grapes in the input selection in the winery.

It has had a maceration for 4-5 hours at 10 ° C. and has been pressing and racking in static inert atmosphere at 10 ° C.

The fermentation takes place in new French oak barrels to 16 ° C.

Organoleptic characteristics: The Verdejo grape endures well the barrel aging and develops new and amazing aromas.

These are wines that evolve over time, gaining new records aromatics. It needs time in bottle to awaken all your charms and displayed in its fullness.

The characteristic features of this Verdejo, are pale yellow-green tone, bright aromas of barrel aging gives complexity, smoky, spicy, toasted fine with notes of white fruit and bone, and anise notes of citrus, exotic fruit and green-vegetal notes typical of this variety.

On palate, wine is a comprehensive, lively, smooth and oily in the mouth, and endowed with a certain structure of freshness due to its good acidity.

Reappear fruit and herbal notes. Long, expressive, with memories of barrels, spicy, lingering bitter finish typical of Verdejo prompting to continue drinking. Long and pleasant aftertaste.

A wine that will improve over time.

With respect to marriage and because of their special characteristics, this wine is apt to take a wide variety of foods, from pasta with meat and strong cheeses such as Parmesan (spaghetti carbonara, lasagna meat), vegetable gratin to roast veal stews, chicken, turkey and rabbit through all kinds of baked fish or sauces.
15 | 09 | 2016
PROTOS SELECCIÓN FINCA EL GRAJO VIEJO GOLD MEDAL IN MUNDUS VINI SUMMER TASTING 2016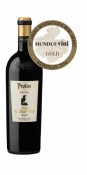 Mundus Vini, the most prestigious wine contest in Germany, has awarded in the Summer Tasting Edition a Gold Medal to our Single Estate Wine, Protos Selección Finca El Grajo Viejo 2014 The Summer tasting was a veritable tasting marathon with 4300 wines from all over the world. The 150 jury members are international wine experts coming from 38 countries. The MUNDUS VINI awards are hold ...
• Read full news
29 | 08 | 2016
BODEGAS PROTOS AWARDED WITH 4 GOLD MEDALS IN THE CHINA WINE & SPIRITS AWARDS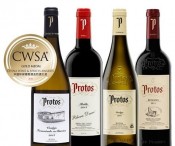 The prestigious China Wine & Spirits Awards, one of the more renowned wine contest in Asia, has awarded Gold Medals to our wines Protos Verdejo 2015, Protos Verdejo fermentado en barrica 2014, Protos Roble 2014 and Protos Reserva 2011. CWSA are the most prestigious wine and spirits contest in China, the jury is composed by 100 of the major purchasing ...
• Read full news
Press Room / Previous
15 | 07 | 2009
Protos Selección rated 90 points by Robert Parker
Source: Wine Advocate # 183 Jun 2009 Reviewer: Jay Miller Rating: 90 Maturity: Drink: 2011 - 2021 Current (Release) Cost: $75 (75) The purple-colored 2006 Seleccion has an aromatic array of toasty new oak, mineral, lavender, incense, and black cherry. On the palate it has a plush texture, the best balance of these three wines, and plenty of ripe fruit. It has several years of aging ...
• Read full news