BODEGAS PROTOS did not want to be out at the fair Vinexpo, as well as many other fairs that has left its imprint and exceptional staff. Protos has been in Fenavin in Ciudad Real, Prowein (Germany), Decanter and Spanish wine trade fair (London), Vinardic (Sweden) and Vinexpo, which ended last Thurday 23th June in the city of Bordeaux (France).

Vinexpo is one of the most important wine and spirits fair. It was held in the French city of Bordeaux and has broken his record of foreign visitors, with special participation from the Asian continent. Around 48,000 visitors from 47 countries attended the fair for five days, representing an increase of 3% compared to the 2009 edition.

About 2,400 exhibitors, producers and traders were present at Vinexpo to establish contacts to seal contracts with buyers, importers, wine merchants and distributors.

PROTOS centennial warehouse located in the town of Peñafiel and Valladolid based on two Appellations of Origin Ribera del Duero, Rueda, exported to 87 countries in Europe, America, Africa, Asia and Oceania after capturing five new markets in 2010: Mongolia Albania, Kenya, Taiwan and Poland.

PROTOS pioneering winery in the Ribera de Duero, continues its firm commitment to international expansion and growth in the most difficult moments, true to their attitude of being first.
15 | 09 | 2016
PROTOS SELECCIÓN FINCA EL GRAJO VIEJO GOLD MEDAL IN MUNDUS VINI SUMMER TASTING 2016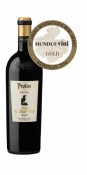 Mundus Vini, the most prestigious wine contest in Germany, has awarded in the Summer Tasting Edition a Gold Medal to our Single Estate Wine, Protos Selección Finca El Grajo Viejo 2014 The Summer tasting was a veritable tasting marathon with 4300 wines from all over the world. The 150 jury members are international wine experts coming from 38 countries. The MUNDUS VINI awards are hold ...
• Read full news
29 | 08 | 2016
BODEGAS PROTOS AWARDED WITH 4 GOLD MEDALS IN THE CHINA WINE & SPIRITS AWARDS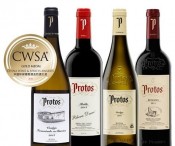 The prestigious China Wine & Spirits Awards, one of the more renowned wine contest in Asia, has awarded Gold Medals to our wines Protos Verdejo 2015, Protos Verdejo fermentado en barrica 2014, Protos Roble 2014 and Protos Reserva 2011. CWSA are the most prestigious wine and spirits contest in China, the jury is composed by 100 of the major purchasing ...
• Read full news
Press Room / Previous
15 | 07 | 2009
Protos Selección rated 90 points by Robert Parker
Source: Wine Advocate # 183 Jun 2009 Reviewer: Jay Miller Rating: 90 Maturity: Drink: 2011 - 2021 Current (Release) Cost: $75 (75) The purple-colored 2006 Seleccion has an aromatic array of toasty new oak, mineral, lavender, incense, and black cherry. On the palate it has a plush texture, the best balance of these three wines, and plenty of ripe fruit. It has several years of aging ...
• Read full news