This unique wine will be available in half-litre and Magnum bottles.
The Crianza 2008 from PROTOS is the new Ribera del Duero wine with more success among the most demanding palates than almost any other wine, as shown by the recent Gold Medal at the Concours Mondialle in Brussels.
It's a wine that has been made with 100% Tempranillo grapes, which have slowly reached optimum ripeness as a consequence of the special metereological conditions of the vintage, then been subject to careful selection, processing and ageing at the new Protos facilities.
As a novelty, it's hitting the market in two new formats. Apart from its traditional 0.75 and 0.375 litre bottle sizes, the Crianza 2008 will also be available in 1.5 litre Magnum format (very sought-out by consumers, but not produced since the 2006 vintage because of quality requirements) and the new 0.5 litre presentation, never before marketed by Protos, but ideal for sharing in couples at a more accesible price.
The Crianza 2008 from PROTOS is distinguished by its intense cherry-red color with marroon ribbons and purple touches, which indicate youth. It is a clean and bright wine. Fine to the nose, it exhudes aromas of ripe fruits perfectly blended with woody notes gained from the cask, which also contributes aromas of sweet spices and gentle toasted hints.
On the palate, it is a a tasty, rich and well balanced wine that leaves a lingering toasted memory.
29 | 08 | 2016
BODEGAS PROTOS AWARDED WITH 4 GOLD MEDALS IN THE CHINA WINE & SPIRITS AWARDS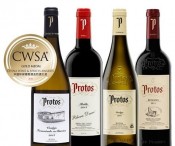 The prestigious China Wine & Spirits Awards, one of the more renowned wine contest in Asia, has awarded Gold Medals to our wines Protos Verdejo 2015, Protos Verdejo fermentado en barrica 2014, Protos Roble 2014 and Protos Reserva 2011. CWSA are the most prestigious wine and spirits contest in China, the jury is composed by 100 of the major purchasing ...
• Read full news
Press Room / Previous
15 | 07 | 2009
Protos Selección rated 90 points by Robert Parker
Source: Wine Advocate # 183 Jun 2009 Reviewer: Jay Miller Rating: 90 Maturity: Drink: 2011 - 2021 Current (Release) Cost: $75 (75) The purple-colored 2006 Seleccion has an aromatic array of toasty new oak, mineral, lavender, incense, and black cherry. On the palate it has a plush texture, the best balance of these three wines, and plenty of ripe fruit. It has several years of aging ...
• Read full news