One hour and half of tour in the winery, where visitors both actors give life to a novel.
An ambitious winemaker and an old man looking for a spyware are the two characters who will open the doors to visitors who come during the weekend of 16 and 17 July to PROTOS . The goal, find a secret formula that has been stolen.

Wine, actors and an unsolved mystery. These are some of the ingredients that make up the new theatrical visits of PROTOS, which becomes visitors the true protagonist of a trip through the 2 km of underground galleries of the winnery

A story which the visitor will have to use the imagination to know what happened at the same time it dives, so appealing and exciting in the world of wine watching the evolution of PROTOS in his nearly one hundred years of history .

The visitor becomes the true protagonist of a plot full of questions and strange characters will give them clues of the mysterious theft of the secret formula abpout making the best wine.

These special visits will be perfomanced during the weekend of 16th July at 11.00, 13.00, 16.30 and 18.30 hours and on 17th July at 11.00 and 13.00 hours.

The price is 13 euros and is indispensable in the phone book 659 843 463 or via e-mail address enoturismo@bodegasprotos.com.

Become a fictional character who always dreamed of and solve the mystery hidden from Bodegas PROTOS.

We count on you!
15 | 09 | 2016
PROTOS SELECCIÓN FINCA EL GRAJO VIEJO GOLD MEDAL IN MUNDUS VINI SUMMER TASTING 2016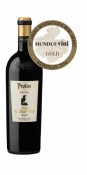 Mundus Vini, the most prestigious wine contest in Germany, has awarded in the Summer Tasting Edition a Gold Medal to our Single Estate Wine, Protos Selección Finca El Grajo Viejo 2014 The Summer tasting was a veritable tasting marathon with 4300 wines from all over the world. The 150 jury members are international wine experts coming from 38 countries. The MUNDUS VINI awards are hold ...
• Read full news
29 | 08 | 2016
BODEGAS PROTOS AWARDED WITH 4 GOLD MEDALS IN THE CHINA WINE & SPIRITS AWARDS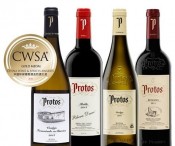 The prestigious China Wine & Spirits Awards, one of the more renowned wine contest in Asia, has awarded Gold Medals to our wines Protos Verdejo 2015, Protos Verdejo fermentado en barrica 2014, Protos Roble 2014 and Protos Reserva 2011. CWSA are the most prestigious wine and spirits contest in China, the jury is composed by 100 of the major purchasing ...
• Read full news
Press Room / Previous
15 | 07 | 2009
Protos Selección rated 90 points by Robert Parker
Source: Wine Advocate # 183 Jun 2009 Reviewer: Jay Miller Rating: 90 Maturity: Drink: 2011 - 2021 Current (Release) Cost: $75 (75) The purple-colored 2006 Seleccion has an aromatic array of toasty new oak, mineral, lavender, incense, and black cherry. On the palate it has a plush texture, the best balance of these three wines, and plenty of ripe fruit. It has several years of aging ...
• Read full news