Duty Free Channel gives Protos more than one million euros, 20% of its outside turnover
BODEGAS PROTOS have participated, once again, in the Duty Free Show of Americas, the largest fair in the Duty Free channel which was held in the U.S. city of Orlando. The purpose of this fair is to facilitate contact with key players and operators travel channel operating in the area and enhance U.S. and power products in the airport shops.

A unique opportunity for Bodegas Protos considering that this canal joins the company's turnover with 1.3 million €.

PROTOS is present in the duty free channel since 2006, as the company believes that this market segment provides visibility, product image and a certain status for the brand, especially in Spanish and German airports, ports, cruise ships and merchant. A market that sells 200,000 bottles, a figure that represents 20% of its export data.
Protos considers to Export as a strategy for future necessary and essential in terms of investment as in product quality and diversification.
PROTOS is present in more than 87 countries, of which U.S. is leading with 100,000 bottles. Closely followed by Germany and Mexico with 60,000 bottles each and Switzerland, with 35,000.
With these figures, PROTOS has opted to topple in a future destinations not yet mature but who know and appreciate quality wines, especially the U.S. and the American continent in general.
29 | 08 | 2016
BODEGAS PROTOS AWARDED WITH 4 GOLD MEDALS IN THE CHINA WINE & SPIRITS AWARDS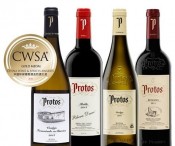 The prestigious China Wine & Spirits Awards, one of the more renowned wine contest in Asia, has awarded Gold Medals to our wines Protos Verdejo 2015, Protos Verdejo fermentado en barrica 2014, Protos Roble 2014 and Protos Reserva 2011. CWSA are the most prestigious wine and spirits contest in China, the jury is composed by 100 of the major purchasing ...
• Read full news
Press Room / Previous
15 | 07 | 2009
Protos Selección rated 90 points by Robert Parker
Source: Wine Advocate # 183 Jun 2009 Reviewer: Jay Miller Rating: 90 Maturity: Drink: 2011 - 2021 Current (Release) Cost: $75 (75) The purple-colored 2006 Seleccion has an aromatic array of toasty new oak, mineral, lavender, incense, and black cherry. On the palate it has a plush texture, the best balance of these three wines, and plenty of ripe fruit. It has several years of aging ...
• Read full news