This sales increase translates into more than 5 million bottles sold in 87 countries
The Bodegas Protos Group broke its historical sales record, both in terms of volume and revenue, with a 15% increase over the figures for 2009. This is even more impressive considering the current economic climate.
By product category, the company's iconic product, Protos Reserva, experienced notable growth, with a 28.6% increase in sales, along with the relatively new Protos Verdejo, produced in the company's D.O. Rueda facilities, with a 46.3% increase, much to the satisfaction of the well-established Ribera del Duero cellars.
According to Bodegas Protos' Board of Directors, this success is due to many factors, but perhaps the most noteworthy of these is the fact that the company offers its clients the most value for their money with its Ribera del Duero wines. The winery plans to continue developing and investing in these product lines.
Obviously these figures substantially strengthen Bodegas Protos' bottom line, with a 26% increase in EBITDA over 2009. BODEGAS PROTOS has a significant presence in the international market, which is a key component of the company's revenue.
This presence extends to more than 87 countries on five continents. International sales play such an important role that they currently account for 20% of the winery's annual production.
29 | 08 | 2016
BODEGAS PROTOS AWARDED WITH 4 GOLD MEDALS IN THE CHINA WINE & SPIRITS AWARDS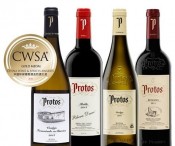 The prestigious China Wine & Spirits Awards, one of the more renowned wine contest in Asia, has awarded Gold Medals to our wines Protos Verdejo 2015, Protos Verdejo fermentado en barrica 2014, Protos Roble 2014 and Protos Reserva 2011. CWSA are the most prestigious wine and spirits contest in China, the jury is composed by 100 of the major purchasing ...
• Read full news
Press Room / Previous
15 | 07 | 2009
Protos Selección rated 90 points by Robert Parker
Source: Wine Advocate # 183 Jun 2009 Reviewer: Jay Miller Rating: 90 Maturity: Drink: 2011 - 2021 Current (Release) Cost: $75 (75) The purple-colored 2006 Seleccion has an aromatic array of toasty new oak, mineral, lavender, incense, and black cherry. On the palate it has a plush texture, the best balance of these three wines, and plenty of ripe fruit. It has several years of aging ...
• Read full news