Bodegas Protos incorporates its Verdejo 2009, on Iberia Bussiness class
From this August, passengers on Iberia and good wine lovers are in luck because they will have the pleasure of tasting Protos Verdejo 2009 thanks to an agreement signed between BODEGAS PROTOS and Todovino, the company that selects the wines for the catalog of IBERIA. An agreement whereby the air company incorporates in its new menu the new Protos white wine from Rueda apellation, a wine of great freshness and high quality.

A wine made from 100% Verdejo grape variety together with its equilibrium level, acidity, maceration and fermentation at temperatures below 14 º C results in a great wine, it has also been raised on fine lees. A vintage exceptionally good, due to the mild temperatures that have led to optimum ripeness.

With a delicate pale yellow colour , this Verdejo shown clear and bright view. On nose displays fresh aromas and intense, with tropical and citrus notes that stand out against a background of fennel. On palate is round and well structured, providing a slightly bitter aftertaste characteristic of the Verdejo variety and makes it a wine with a long finish.

It is a perfect wine to pair with pasta, vegetables and all kinds of fish and shellfish. Operating temperature is 6-7 º C.
15 | 09 | 2016
PROTOS SELECCIÓN FINCA EL GRAJO VIEJO GOLD MEDAL IN MUNDUS VINI SUMMER TASTING 2016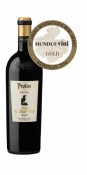 Mundus Vini, the most prestigious wine contest in Germany, has awarded in the Summer Tasting Edition a Gold Medal to our Single Estate Wine, Protos Selección Finca El Grajo Viejo 2014 The Summer tasting was a veritable tasting marathon with 4300 wines from all over the world. The 150 jury members are international wine experts coming from 38 countries. The MUNDUS VINI awards are hold ...
• Read full news
29 | 08 | 2016
BODEGAS PROTOS AWARDED WITH 4 GOLD MEDALS IN THE CHINA WINE & SPIRITS AWARDS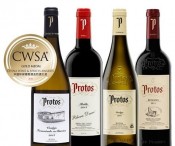 The prestigious China Wine & Spirits Awards, one of the more renowned wine contest in Asia, has awarded Gold Medals to our wines Protos Verdejo 2015, Protos Verdejo fermentado en barrica 2014, Protos Roble 2014 and Protos Reserva 2011. CWSA are the most prestigious wine and spirits contest in China, the jury is composed by 100 of the major purchasing ...
• Read full news
Press Room / Previous
15 | 07 | 2009
Protos Selección rated 90 points by Robert Parker
Source: Wine Advocate # 183 Jun 2009 Reviewer: Jay Miller Rating: 90 Maturity: Drink: 2011 - 2021 Current (Release) Cost: $75 (75) The purple-colored 2006 Seleccion has an aromatic array of toasty new oak, mineral, lavender, incense, and black cherry. On the palate it has a plush texture, the best balance of these three wines, and plenty of ripe fruit. It has several years of aging ...
• Read full news