If you want to be original and enjoy a perfect day, BODEGAS PROTOS open its doors. PROTOS shows how to enjoy one of the most exquisite trends of recent times: wine tourism, a real sensory experience suitable for all ages. The perfect gift for lovers of good wine and good food.

Bodegas PROTOS has prepared different types of tourist visits. These tours are fully guided, including explanation of the winemaking process, and a tasting, giving you the opportunity to enjoy an extensive tour of their facilities. For an hour and a half for just 10 euros, visitors will tour the oldest aging cellar, which runs along 2km of underground tunnels located under the mountain on which sits the Castle of Peñafiel, ending the tour in the new winery designed by the renowned British architect Richard Rogers and Alonso Balaguer y Arquitectos Asociados. On this visit you can taste Protos Roble and Protos Verdejo.

Visit PROTOS Diversity is another tourist visits PROTOS has organized for you. This is a more extensive tour in which visitors will have the opportunity to taste a white wine Verdejo, a rosé, Protos Roble and Protos Crianza with a detailed description of the organoleptic characteristics of the four wines and a brief explanation of the differences in the development of each of these wines. It costs 15 euros.

And for the most demanding, PROTOS Visit Great Selection. Following the tour of the cellar, the visitor can take a commented tasting of three wines of high quality. Choose from Crianza, Reserva or Reserve and Selection, Selection and Gran Reserva. In this case the price of the visit is between 20-25 euros depending on the choice of wines.

To complete the day, you can also have tasting courses aimed to people interested in learning to taste wine.

All visits must be arranged by appointment by phoning 659 843 463 or via e-mail address enoturismo@bodegasprotos.com.


15 | 09 | 2016
PROTOS SELECCIÓN FINCA EL GRAJO VIEJO GOLD MEDAL IN MUNDUS VINI SUMMER TASTING 2016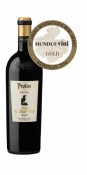 Mundus Vini, the most prestigious wine contest in Germany, has awarded in the Summer Tasting Edition a Gold Medal to our Single Estate Wine, Protos Selección Finca El Grajo Viejo 2014 The Summer tasting was a veritable tasting marathon with 4300 wines from all over the world. The 150 jury members are international wine experts coming from 38 countries. The MUNDUS VINI awards are hold ...
• Read full news
29 | 08 | 2016
BODEGAS PROTOS AWARDED WITH 4 GOLD MEDALS IN THE CHINA WINE & SPIRITS AWARDS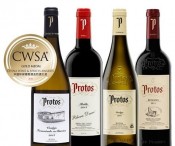 The prestigious China Wine & Spirits Awards, one of the more renowned wine contest in Asia, has awarded Gold Medals to our wines Protos Verdejo 2015, Protos Verdejo fermentado en barrica 2014, Protos Roble 2014 and Protos Reserva 2011. CWSA are the most prestigious wine and spirits contest in China, the jury is composed by 100 of the major purchasing ...
• Read full news
Press Room / Previous
15 | 07 | 2009
Protos Selección rated 90 points by Robert Parker
Source: Wine Advocate # 183 Jun 2009 Reviewer: Jay Miller Rating: 90 Maturity: Drink: 2011 - 2021 Current (Release) Cost: $75 (75) The purple-colored 2006 Seleccion has an aromatic array of toasty new oak, mineral, lavender, incense, and black cherry. On the palate it has a plush texture, the best balance of these three wines, and plenty of ripe fruit. It has several years of aging ...
• Read full news