Roble 2008, Rosado 2009 and Verdejo 2009, the three major players of Protos in Alimentaria 2010.


The wine lovers are in luck. Bodegas PROTOS have adopted the new vintages that go beyond the most optimistic forecasts in quality and taste. The three will be presented officially in the eighteenth edition of Alimentaria, from 22 to 26 March.

Red cherry and grape 100% selected, PROTOS brings to our tables long-awaited
"Roble 2008". After adequate rest, as befits their proper evolution, and all care that this category is worth the end result is an exceptional young oak that is characterized by its attractive color, lively and bright. A wine of excellent quality, very expressive and good intensity. This is a great bottle for any kind of food.

If we talk about excellence we also talk about PROTOS Rosado 2009 and Verdejo 2009, two great wines perfect for any occasion. In addition, this year with added value: a vintage exceptionally good because of the pleasant climate that have led to earlymaturation and, therefore, an early harvest.

They are wines that are characterized by their attractive color, vivid and brilliant. The wines are very fresh and have a long finish. A pink you can not miss at any table, perfect with cereal, pasta and vegetables and a perfect target for all types of fish and shellfish. Wines of great freshness, they will not leave anyone indifferent.

Roble 2008, Rosado 2009 and Verdejo 2009, wines for every occasion with a common characteristic: their high quality.

Protos has wineries in Anguix, and Peñafiel, epicentres of Ribera del Duero appellation, and in La Seca, part of Rueda appellation . Major installations in which they have managed to combine tradition and innovation, as a result of great vintages.


15 | 09 | 2016
PROTOS SELECCIÓN FINCA EL GRAJO VIEJO GOLD MEDAL IN MUNDUS VINI SUMMER TASTING 2016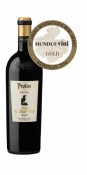 Mundus Vini, the most prestigious wine contest in Germany, has awarded in the Summer Tasting Edition a Gold Medal to our Single Estate Wine, Protos Selección Finca El Grajo Viejo 2014 The Summer tasting was a veritable tasting marathon with 4300 wines from all over the world. The 150 jury members are international wine experts coming from 38 countries. The MUNDUS VINI awards are hold ...
• Read full news
29 | 08 | 2016
BODEGAS PROTOS AWARDED WITH 4 GOLD MEDALS IN THE CHINA WINE & SPIRITS AWARDS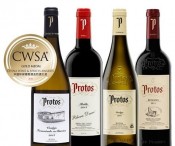 The prestigious China Wine & Spirits Awards, one of the more renowned wine contest in Asia, has awarded Gold Medals to our wines Protos Verdejo 2015, Protos Verdejo fermentado en barrica 2014, Protos Roble 2014 and Protos Reserva 2011. CWSA are the most prestigious wine and spirits contest in China, the jury is composed by 100 of the major purchasing ...
• Read full news
Press Room / Previous
15 | 07 | 2009
Protos Selección rated 90 points by Robert Parker
Source: Wine Advocate # 183 Jun 2009 Reviewer: Jay Miller Rating: 90 Maturity: Drink: 2011 - 2021 Current (Release) Cost: $75 (75) The purple-colored 2006 Seleccion has an aromatic array of toasty new oak, mineral, lavender, incense, and black cherry. On the palate it has a plush texture, the best balance of these three wines, and plenty of ripe fruit. It has several years of aging ...
• Read full news