The international award-winning wine writer, TV presenter and radio broadcaster Susie Barrie, this morning visited the facilities of Bodegas Protos.
For an hour and half, Barrie has toured the former aging cellar, which runs along 2km of underground tunnels located under the mountain on which sits the Peñafiel's Castle, to end the visit at the new winery designed by renowned architect Richard Rogers and Alonso Balaguer y Arquitectos Asociados. A visit in which she could see the process of production and evolution of the wines: aromas, its colours and flavours.

The English journalist has had the opportunity to conduct a tasting of representative wines from this centenary winery: Verdejo, Rosé, Roble, Crianza, Reserva and Selección.

Susie Barrie, renowned British journalist, was released and worked as an actress. However, his passion for the food, and specifically the world of wine, took her to get the "Master of Wine", which since September 2009 is part of only 278 people around the world have achieved this title. Author of books "Champagne and Sparkling" (2004) and "Discovering Wine Country - Northern Spain" (2006) the most important project right now for the journalist is the Winchester School of Wine, who runs with her husband, also a writer Gourmet, Peter Richards. A project combined with her cooking show every Saturday issued by the BBC, where each week she makes his own wine recommendation.


15 | 09 | 2016
PROTOS SELECCIÓN FINCA EL GRAJO VIEJO GOLD MEDAL IN MUNDUS VINI SUMMER TASTING 2016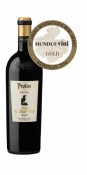 Mundus Vini, the most prestigious wine contest in Germany, has awarded in the Summer Tasting Edition a Gold Medal to our Single Estate Wine, Protos Selección Finca El Grajo Viejo 2014 The Summer tasting was a veritable tasting marathon with 4300 wines from all over the world. The 150 jury members are international wine experts coming from 38 countries. The MUNDUS VINI awards are hold ...
• Read full news
29 | 08 | 2016
BODEGAS PROTOS AWARDED WITH 4 GOLD MEDALS IN THE CHINA WINE & SPIRITS AWARDS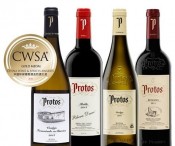 The prestigious China Wine & Spirits Awards, one of the more renowned wine contest in Asia, has awarded Gold Medals to our wines Protos Verdejo 2015, Protos Verdejo fermentado en barrica 2014, Protos Roble 2014 and Protos Reserva 2011. CWSA are the most prestigious wine and spirits contest in China, the jury is composed by 100 of the major purchasing ...
• Read full news
Press Room / Previous
15 | 07 | 2009
Protos Selección rated 90 points by Robert Parker
Source: Wine Advocate # 183 Jun 2009 Reviewer: Jay Miller Rating: 90 Maturity: Drink: 2011 - 2021 Current (Release) Cost: $75 (75) The purple-colored 2006 Seleccion has an aromatic array of toasty new oak, mineral, lavender, incense, and black cherry. On the palate it has a plush texture, the best balance of these three wines, and plenty of ripe fruit. It has several years of aging ...
• Read full news